My mommy came to see me and yooouuurs didn't :)
Well, I don't know maybe she did. I don't even know who I'm nanny-nanny boo-booing, but it feels right because tonight is my Christmas!
Mom and Dave have been teasing me for 3 years that they would come over from England to visit me and didn't make the trip until today. Sneaky little buggers didn't even tell me they were coming.
I got a call this evening from them telling me that they had UPS on the phone who was trying to deliver a perishable package to me that Mum had sent and couldn't find my house. I spent 30 minutes on the phone with them and driving around my neighborhood trying to meet a UPS man at some Shell station for my package. Seriously, Dave and I left the apartment to find a UPS guy that said he'd wait at some Shell station until we arrived - I totally didn't get it. Not the brightest crayon in the box now, am I? Finally, Dave took the mobile off of Mum and said, "dammit - we're the package. Now come pick us up."
So we did and now they are home and I was able to bury Mum in all the yarn I had found and things I had knitted her and Mum buried me in mohair and knitting books from England (and Cadbury's!!!) Dave and the Irishman drank a weizen beer and laughed at us from across the room.
Now, I present picks of Mum in the hat I knit for her out of the handspun alpaca she sent me last year.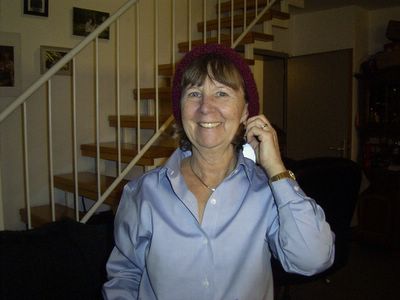 Pure Hat
And updates of the Dublin Bay socks, which I am deciding I really
really
like to knit.
Pattern is fairly simple, yet keeps my interest and looks great - 'specially with dem stripes.