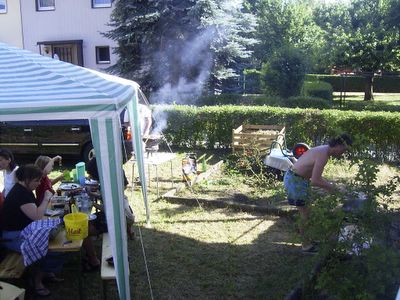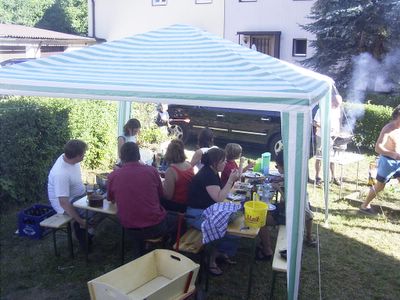 Iveira picked up some meat yesterday and I threw together a pasta salad this morning. Frances brought the Kahlua and Absolut and Dave stocked up the beer yesterday. Invited the neighbors and Paulina (and I shit you not) hopped into her car and ran up to their garden plot and picked a couple quarts of strawberries for dessert. After we stuffed ourselves with grilled goodies and as many still-warm-from-the-fields strawberries as possible, we roasted ourselves in the sun again and the kids grilled the berries over the fire and proclaimed the best part of the meal.
Also, Frances learned how to knit today. She asked me a while ago but we were at her house sans needles. She mentioned it today when we were lying in the sun, so we took a sunbathing break and took our oiled selves up to the wool studio to cast on.
Maybe it's my teaching, but I think she might be a natural....
She's practicing right now as we watch
Super Troopers
for the 8 thousandth time (that's a lot of Dimp!) and can already find, read and repair her mistakes. I even supplied her with some bamboo circulars so that she can take her knitting on the plane to Vietnam (for business, suuuuuurrrreeee).