Had the Franconian neighbors over for dinner on Friday night for some traditional American grub - can't go wrong with Mum's Chicken Divan :)
Somehow, and I seriously have no idea how this happened, we got onto the subject of knitting and knitting in Germany and old knitting customs. Paulina's grandmother knits up all her leftovers into the sweetest little footies you ever did see. We took a quick run over to her front hallway and Paulina pulled open a drawer full of knitted slippers - from baby to humungo. And I took a pair of the kids' with me to check out the pattern. Mrs. Neighbor agreed to model them for me, pic above.
Then, Mr. Neighbor, Georg insisted I learn first-hand exactly how toasty warm and comfortable are and he pushed Paulina out the door to get me a big-kid pair.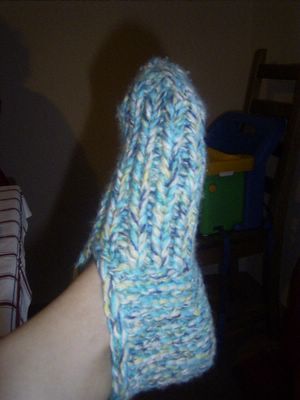 Do you see what I see? Grasp a whole heap of yarn (4-6 strands) jumbo size needles, knit a garter stitch square, sew one side together and with the other side, start knitting in the round - K1P1 ribbing until toe, decrease, sew in loose ends and hand out to family, friends and unsuspecting passers-by.
I started my own yesterday but got distracted by Opal-silk socks for the Irishman and Phildar cotton (coton!) tank top. Oh yeah, and I taught my friend Birgit to knit socks in the round last night. Very distracting, all of it.